Residential Suite Lift
Complying to AS1735.18 Passenger lifts for private residence
The Suite Lift is one of the most attractive and captivating home lifts on the market. West Coast Elevators guarantee a minimum 300kg load rating with every Suite Lift cabin configuration as 'standard' making the Suite Lift an industry leading mighty powerful home lift with manual swing landing doors. The Suite Lift cabin can be completely customised starting from 600x600mm all the way up to 1100x1400mm Offering complete flexibility with design.
TECHNICAL INFORMATION
LIFT CODE
AS1735.18
LOAD RATING
300kg-400kg
SPEED
0.30m/s
TRAVEL
12m (Max)
PIT
120 mm (Min)
HEADROOM
2500 mm (Min)
CONTROL CABINET
750Wx410Dx1400H (mm)
POWER
300kg - Single Phase 25amp
400kg - Single Phase 32amp
SAFETY FEATURES – PEACE OF MIND
Battery backup and Cabin lighting in case of power failure
Automatic return to lowest floor
Full height light curtain protection beams across cabin entrance
Over Load Alarm and Indicator
Creeping Speed Feature
EACH RESIDENTIAL SUITE LIFT PACKAGE COMES WITH THE FOLLOWING INCLUSIONS AS STANDARD:
Landing Doors: Signal White Powder Coating Frame with Milk White Glass
Door Handles: Full Height Integrated
Cabin Walls: PPS11 Luxury Skinplate
Control Operating Panel: Full Height PPS11 Luxury Skinplate with Integrated Button Design & Digital Display.
Ceiling: White Powder Coating with 4 x LED
Floor: Custom Stone Tiles provided by customer
"I am very satisfied with the product and the service provided by West Coast Elevators. Will most definitely keep using your company on future projects. Steven is a great installer!"
Craig
Homes by Dalessio
Client: Homes by Dalessio
Location: MOUNT PLEASANT WA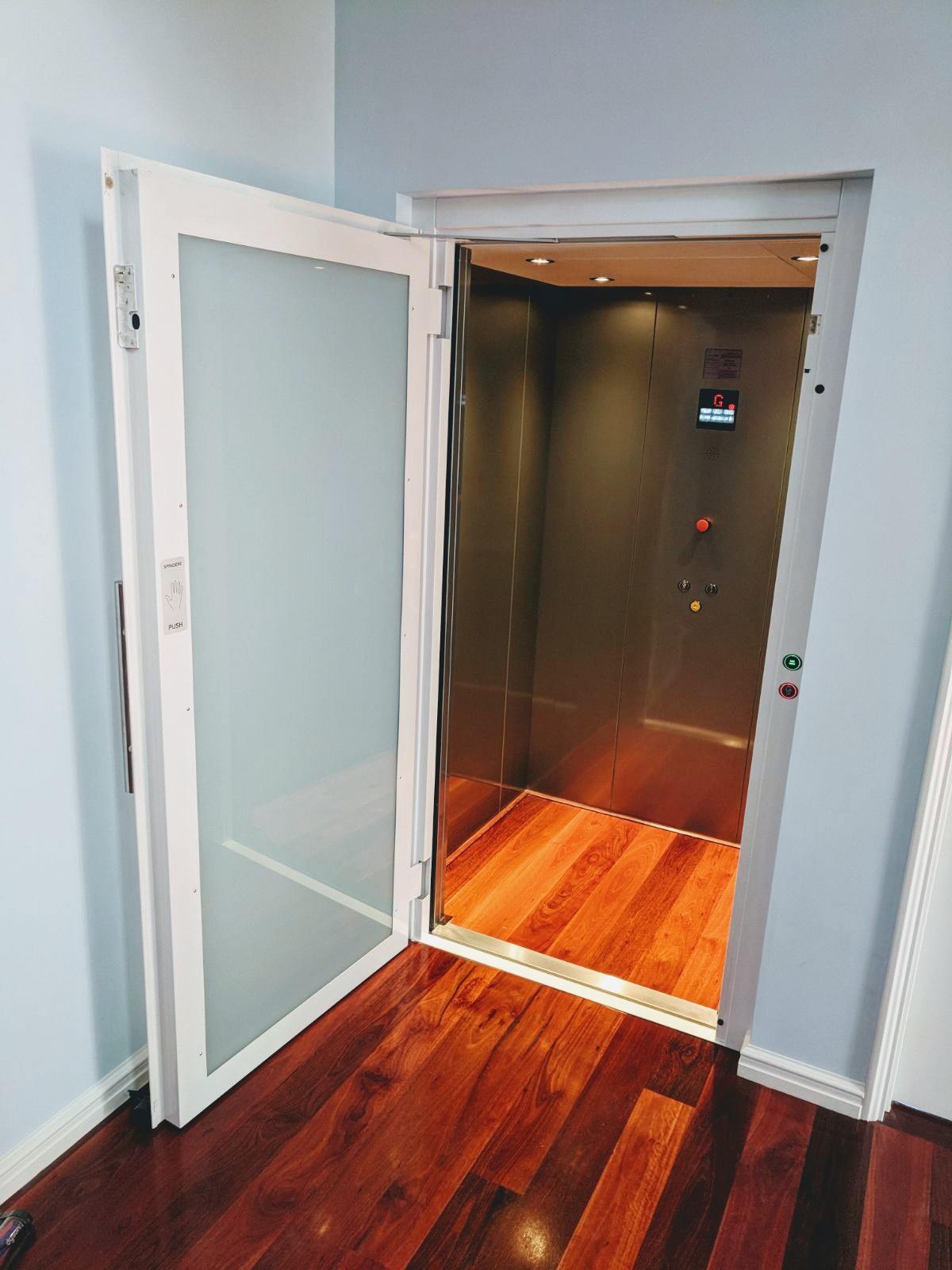 ENQUIRE ABOUT THE RESIDENTIAL SUITE LIFT TODAY