When you think of elevators, you might instantly think of space-taking, sky-high people movers. But putting the large commercial buildings aside, you might be pleasantly surprised at just how little space you actually need to put a lift in your own home. (Hint: It's not that much space!)
Residential lifts in Perth can be a very efficient way of adding value, style and accessibility to your home, whether you're building it into the plans of your new home or retrofitting it into your existing space. And surprisingly, a residential lift also has the opportunity to be very space-effective if you take on a few key planning considerations.

Also read: Can You Retrofit A Lift Inside Your Home?
To work out how much space you will need to accommodate your residential lift, the number one consideration to initially take on is how many people will be using it at one time? Is this a single person lift or a multi-person lift? Once you can answer these questions, it is easier to work out your options.
Below are a few things you need to consider:
1. Is there a legally compliant amount of space I need?
So you've worked out what the maximum number of people you will ever need to carry in your residential lift. Now you need to know if you have the compliant amount of space. Good news! Residential lifts have no fixed space requirements, unlike their commercial counterparts whose cabin size needs to adhere to DDA access regulations. A Residential lift cabin can be designed from as small as 600mm x 600mm all the way up to 1100mm x 1400mm.
2. What's the difference in space needed for a retrofit installation VS installation in new home build?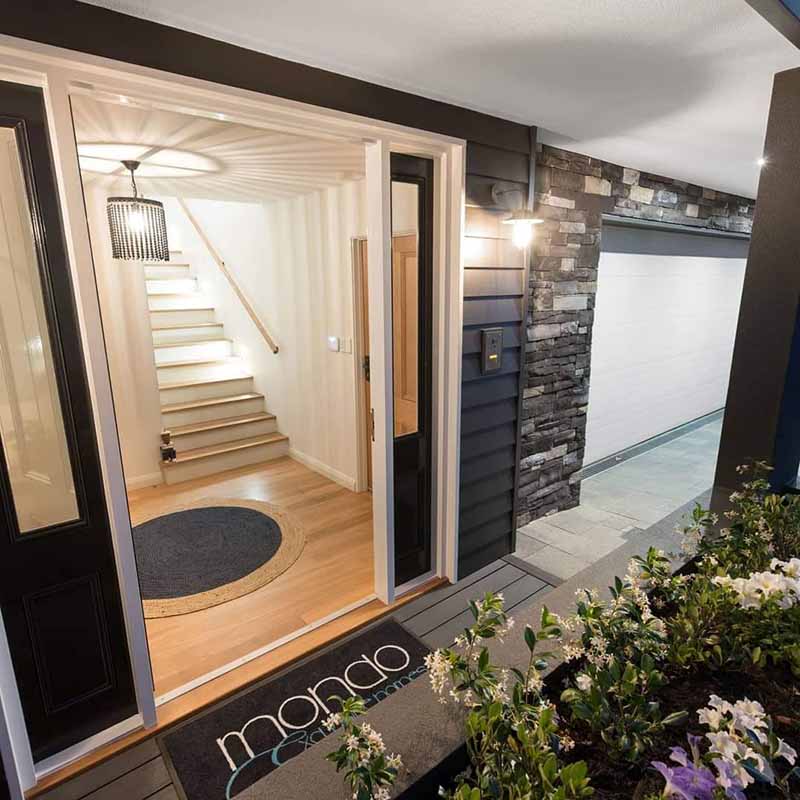 If your house is already built and you're installing a residential lift after the fact, you might wonder if there's any differences in spatial compliances you need to adhere to. While there's absolutely no difference between new builds and retrofits, it is however all dependable on the space you have available to begin with. The biggest benefit of building a new home with an elevator in mind is that you can pre-plan how much space you would like to allocate to the lift.
3. Is location important when installing an elevator in my home?
To benefit the end users, as well as creating ease around the installation process, there are some location preferences we recommend when installing a residential lift. These include:
– Installing your elevator close to stairs
– Installing external elevators near existing windows as it is easier to cut the elevator door openings
– Choosing a clear open space that is easy to access, with no obstructing walkways.
Tip: Try to build your lift around any existing plumbing. While this is 100% possible to relocate, remove or re-do plumbing to accommodate your new lift, adhering to this recommendation could save you lots of time, money and frustration!
4. Are there restrictions when choosing a location?
Technically you can install a lift anywhere inside your home if you have enough space. However to make the process cost effective with minimal hassle we recommend avoiding locations above kitchens and bathrooms to keep from having to remove or alter your plumbing.
When installing an external lift, we are however faced with several major restrictions that will affect where you are able to place your lift. We are unable to install:
Close to the property boundary as per local council requirements
Over a water table (i.e a bore)
Over underground car parks due to lift pit requirements.
5. What size elevators are available to me?
Once you've worked out how much space you're working with, it's time to choose your elevator size. The smallest house lift we are able to fit is currently 600mm by 600mm. With the largest being 1100mmW by 1400mmD. With weight capacities ranging from 300kg – 400kg – 500kg. While those requiring a wheelchair-accessible residential elevator, we recommended minimum size of 1000mmW x 1300mmD, with a 900mm door opening.
To find out more about installing a residential lift in your home, contact us for a free quote.