To be accessible to all, every multilevel business is required by law to have an elevator. But it takes more than your average elevator to be legally DDA compliant. To adhere to all your obligations as an employer and service provider, the elevator you install must be a DDA elevator, taking every possible user into account. A DDA compliant elevator strictly adheres to a detailed range of accessibility and safety requirements, allowing people of all abilities ease of use, creating a more inclusive environment. 
But naturally, extra features tend to bring up a few extra questions. Like, how much space will I need to accommodate my new DDA compliant elevator? After all, when square metreage is at a premium, the last thing you want is an elevator swallowing it all up.
Yes, a commercial DDA compliant elevator is bigger than a regular residential lift. This is because it is designed to accommodate wheelchair access.
So if size is everything when it comes to staying legally compliant, it's time we take a look at how big a DDA elevator actually is.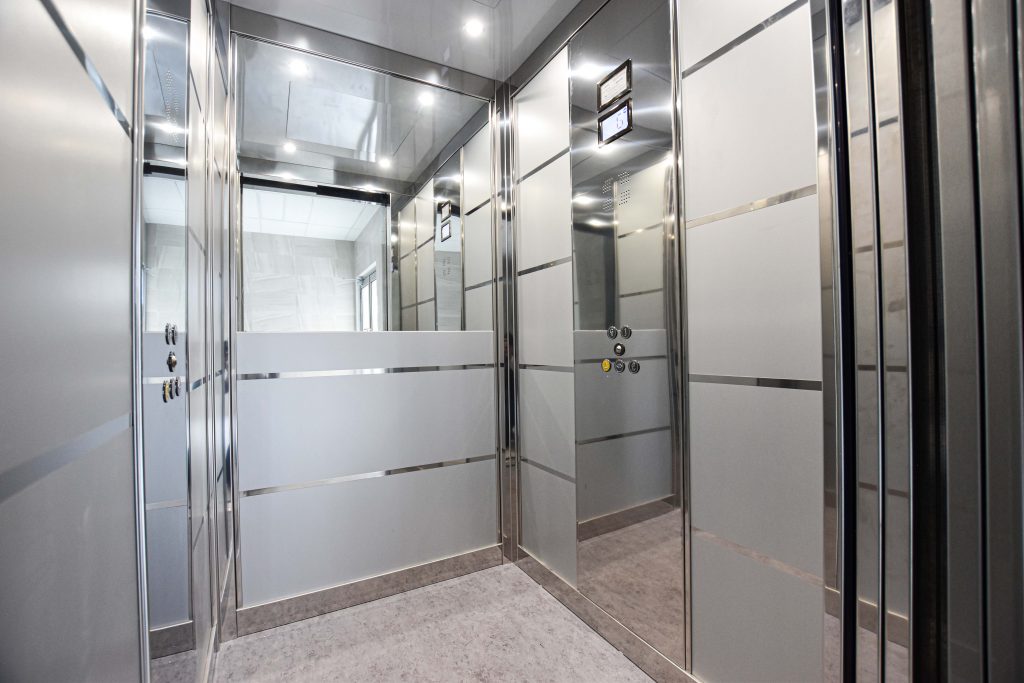 How big is a DDA elevator? 
To be awarded DDA compliance, your commercial elevator must be big enough to accommodate a wheelchair (one of several accessibility features). The standard DDA elevator is fitted with an interior of no less than 1100W x 1400D and a door opening of 900mm. While this may sound large, a bigger lift doesn't have to mean it needs to occupy a lot of space. Here's why…
If you're only working in a small space, it all comes down to how you incorporate your elevator shaft within your building. To be confident your business won't be swallowed up by an excessive amount of elevator space, it is vital to place your new build or retrofit under the guidance of a professional who can find the most suitable (and accessible) location that doesn't zap your floor space.
Some of the most popular locations include:
Within the stair space
On the exterior of your building
In a thoroughfare. 
We have four DDA compliant elevators that can be seamlessly incorporated into most commercial spaces.
These include:
The Crown Commercial Lift – a stunning allrounder for almost every type of commercial space. Cabin size: 1100×1400 Load rating: 630kg
The Maxi Commercial Lift – larger cabin size, higher load rating and faster speeds for high-traffic, commercial use.  Cabin size: 1400×1600 Load rating: 850kg – 1250kg 
The Stretcher Commercial Lift – premium cabin space and extra high load ratings to transport large goods. Cabin size: 1100×2100 Load rating: 1000kg
The Crystal Mini Commercial Lift – Series II (also known as a platform lift) – extra compact to fit almost anywhere, it makes just about any building compliant. Cabin size: 1100×1400 Load rating: 400kg
FAQs
Why is the DDA important?
The DDA (or Disability Discrimination Act) makes it unlawful to discriminate (knowingly or unknowingly) against disability. It covers everything from access to premises, employment opportunities and access to goods and services. The DDA is in place to ensure every Australian is given equal opportunity.
How long will a DDA lift last for?
At West Coast Elevators you can expect our entire range of lifts to go the distance. In fact, if you keep up regular servicing of your elevator, you can expect it to last for 30 years before it needs a major update.
How much does a DDA lift cost to install?
The cost of commercial DDA compliant elevators generally starts at approximately $55,000 (+gst)*. However this will vary depending on design, size, elevator travel distance, number of stops, quality of material, and of course your lift manufacturer.
* (Current market pricing from February 2022)
How does my lift attach to each landing?
This all depends on whether you are incorporating your elevator within a new build or are retrofitting it, and can be discussed with your elevator expert. The most important thing to note when you're seeking DDA compliance with landings, every landing must be level for ease of entrance and exit.
Do I need to regularly service the lift?
Yes! To ensure the longevity of your elevator we recommend a yearly service and safety check. This will prevent breakdowns, maintain your lift parts and update or replace any out of date parts or features.
So which DDA compliant elevator is the best fit for your business? To browse our options head to our Belmont showroom, or get in touch with one of our elevator experts today.