If a home lift is on your mind, you'd need to know how they work and what makes them different from their commercial cousins. Read on for everything you need from start to finish; how to get your home lift up and running, how the two most popular styles work and how to look after your lift once installed so it lasts for years to come.
The difference between home elevators and commercial elevators
The main difference between them is that residential lifts can have drastically different styling. While commercial elevators can still look beautiful and modern, they need to comply with the DDA to ensure that everyone is able to use them comfortably. This means specific regulations for things like height and placement of buttons, size, shape and more.
Because your home lift is built for you, you can design it any way you'd like. Want your buttons out of reach of children? No problem. Keen to squeeze your lift into a tight corner? Can do! Your home lift gives you much more freedom to design it any way you like.
As far as the mechanics are concerned, there is almost no difference between them. Read on to learn more.
How do home elevators work
Each style of residential elevator works slightly differently, but there are some key elements required across the board. While they don't need to specifically meet DDA Accessibility regulations, they still have to be designed to Australian standards to ensure they're safe to use. Specifically, they need to be designed to the lift code, AS1735.18 – Passenger lift for private residence. This ensures that your lift is built to the highest safety standards and won't leave you stranded or broken down. To get any home lift up and running you'll also need:
A good permanent power supply
Space to install your lift and/or the shaft to house it
Phone line or active SIM card for the lifts emergency phone system.
The most popular type of residential lifts in Perth are hydraulic lifts. But regardless of design, the first step to getting your home elevator up and running is to build an elevator shaft to house your lift… or alternatively you can also purchase an engineered and certified glazed metal structure shaft with your lift. Residential lift options can be customised to your available space and made ultra-stylish with options like the Residential Royal and Round Panoramic Lift available. While very different in design, they actually work quite similarly. Here's how these two popular designs work:
Hydraulic elevators in a masonry shaft
Hydraulic elevators are heavy-use home elevators that are safe, highly reliable and great for carrying heavy loads. Essentially, they work because a pump pushes oil into a hydraulic cylinder which has a piston inside. This pressure placed on the piston is what lifts the elevator car up. When the pressure is released by a downward descent the oil is pushed out of the piston, the pressure lowers and so does the lift.
Hydraulic elevators in a glazed metal structure shaft
If you don't want to build an elevator shaft, a custom designed and engineered glazed metal structure shaft might be better suited to you. They can be designed in many shapes including round glazed metal structures and don't need an external shaft built, making them great space savers and state-of-the-art features. This option also means the lift shaft can be installed at the same time as the lift which heavily reduces third party building works and costs.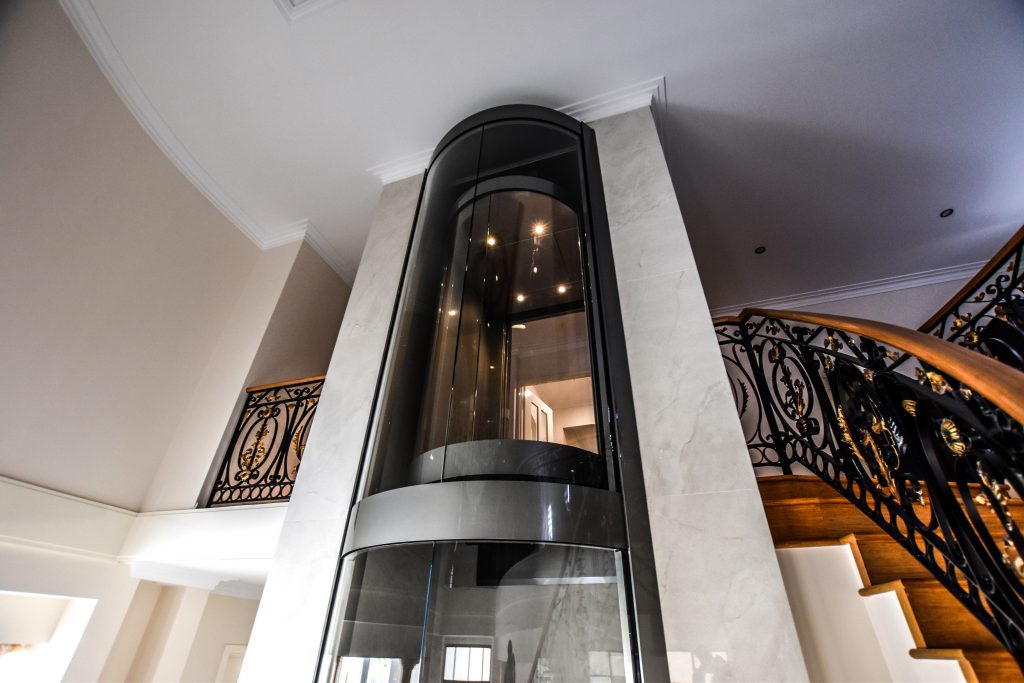 How to look after your home elevator
Lifts are built to last and once installed, it's highly unlikely you'll ever need to replace it, provided you take proper care of your lift. To do so, simply organise a once yearly service and safety check with your lift provider. These services will:
Maintain all of your lift parts
Identify and replace any parts from normal wear and tear
Ensure everything is running smoothly
Prevent your lift from breaking down.
A good lift company will work to take the worry away and provide you with all the information and resources you need. They should also stay on top of your lift services requirements and send you annual reminders to help keep your lift in tiptop shape.
Residential elevators are just as safe as commercial options on the market, they just allow for more customisation and creative license. Regardless of the type of home elevator you choose, when you opt for a trusted lift builder you can rest well knowing they are built to the highest Australian standards, and will serve you for many years to come.