How much does it cost to install a lift in a house? Well, the average cost of a residential lift servicing two levels is between $35,000 and $65,000. However, this can vary and depends on a variety of factors.
1. The size & duty load of the elevator
Depending on the space you have available, most residential lift cabin sizes can range from as small as 600 x 600mm all the way up to 1100 x 1400mm and have a range of duty loads available which can vary from 300kg, 400kg & 500kg. Higher duty loads will cost more due to larger motors and increased engineering of components to support larger loads. The average residential lift duty load is usually 300kg and this will allow a large cabin size of 1000mm x 1300mm which is a perfect size to also accommodate a wheelchair + 1 additional person. The choice to upgrade to 400kg or 500kg will allow a 1100 x 1400mm cabin size. It is important to know what size & duty load will be most suitable for your application and usage when requesting a residential lift quotation.
2. Travel distance
The average travel distance between floor levels in most homes is between 2.7m and 3.5m. In some cases the travel distance may be more. It is important to know what travel distance has been allowed for in any residential lift quotation you have received. If possible, provide this information or a copy of your house plans to a lift company prior to receiving a home lift quotation so that it is correct and specific to your requirements. In some cases, additional travel distances over the average may incur an extra cost.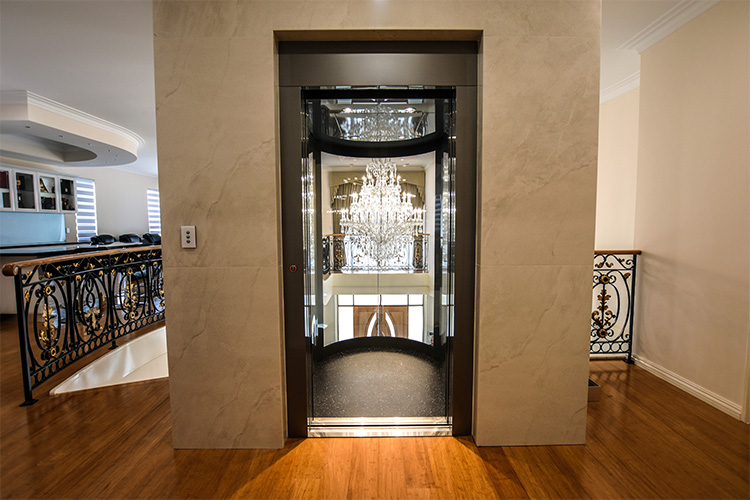 3. Design features
Residential lifts in Perth have many design features which are included in the standard package. In addition to the standard items, you may also have a selection of "optional extra" features that incur an additional cost. It is important that you understand what design features are included in any residential lift quotation you receive. Always visit a showroom to inspect the design features which are included in your lift quote, or choose the specific features and finishes that you would like to be included in your residential lift quotation. Some specific design features like Digital Displays, Auto Dial Phones, Glass Landing Doors and LED Cabin Lighting may not be included in the standard package so it is extremely important to know what is included in your residential lift quotation to avoid any uncertainty or disappointment. Certain design features can make a substantial difference to the overall prices.
4. Quality of materials
It is a fact that high quality materials will cost more than low quality materials. When you are shopping for residential lifts, it is important that you inspect the quality of the materials and ask about the origin of where the materials are manufactured. A great way to inspect the quality of materials is to visit an operational showroom where you can take the time to inspect a variety of materials and ask the relevant questions to industry professionals. A further step is to request references from a lift company so you can speak to past clients to confirm the reliability and experience. Purchasing a residential lift is a long term commitment so it is strongly advised that you take the time to ensure you are getting exactly what you expect with quality and reliability.
Contact us today for a free quote
The West Coast Elevators showroom is a comprehensive display centre with operational lifts dedicated for you to gain inspiration, information and experience. Our Sales Professionals are more than happy to assist with educating you on being able to read and interpret lift specifications and quotations so that everything is transparent prior to making a purchase decision. Feel free to organise a time to visit our showroom for a chat and a coffee.